In de VS wil geassocieerd distilleerder van productontwikkeling Will Robinson dat mensen drinken en nadenken.
Belangrijkste punten:
Groene krabben werden ongeveer 200 jaar geleden op schepen naar de Verenigde Staten gebracht
Het aantal invasieve soorten is toegenomen door de opwarming van de oceaan
Een batch van de unieke whisky is gemaakt met bourbon en ongeveer 40 kg groene krabben
"De krabwhisky was mijn idee," zei Robinson.
"De meeste mensen hebben de shit-factor, de grove factor. Maar zodra ze de whisky ruiken en proeven, verandert hun mening totaal."
De distilleerderij is gelegen in het kleine stadje Tamworth, New Hampshire, vlakbij de Canadese grens en dicht bij het historisch koude water van de Atlantische Oceaan.
Het water is echter niet zo koud als vroeger. Opwarming van de aarde aan dit deel van de oostkust betekent meer groene krabben, en dat is slecht nieuws voor ander zeeleven.
"De krab werd ongeveer 200 jaar geleden op zeilschepen voor de kust van New England gevonden. Hij werd op afstand gehouden omdat onze estuaria in de winter voor bepaalde tijd vastvroren, waardoor veel van de jonge krabben stierven," zei hij. hij legde uit
"Nu de oceaantemperaturen opwarmen, bevriezen de estuaria niet meer zoals vroeger. En dus wordt het aantal krabben productief … ze eten veel tweekleppigen en anderen. [crustaceans]zoals sint-jakobsschelpen en oesters."
House of Tamworth Crab Trapper Green Crab Flavored Whisky is gemaakt met een 4 jaar oude bourbonbasis en meer dan 40,8 kilogram groene krab. Blended whisky zit vol met kruiden.
Robinson zegt dat hij werd geïnspireerd door de Aziatische keuken, die vissaus gebruikt.
"Als je het mengt met de juiste kruiden en het in de juiste context kookt, kan het iets veel beters maken dan het zonder zou zijn", zei hij.
Crab Trapper is in beperkte hoeveelheden beschikbaar, maar nu is het viraal gegaan, zei Robinson.
En ze hebben moeite om de vraag bij te houden.
Robinson maakt ongeveer 2.273 liter (500 gallons) per batch en zal binnenkort een vierde batch starten.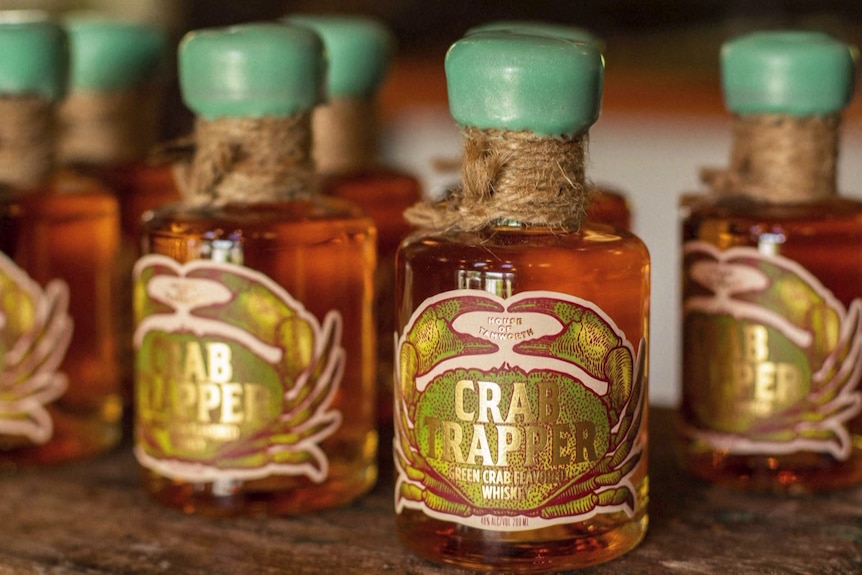 Op dit moment vindt distributie alleen plaats in de Verenigde Staten, maar Robinson hoopt op een dag uit te breiden naar andere delen van de wereld, met name Azië, de inspiratiebron voor deze unieke combinatie.
'Wie weet? Ik bedoel, we zouden graag zoiets groots zien,' zei Robinson.
De distilleerderij heeft andere geweldige sterke dranken gecreëerd, waaronder Eau de Musc, The Deerslayer Whisky en Bird of Courage; hiervoor bevatten ze alle drie elementen van bever, herten en kalkoen.
Hoewel het maken of drinken van Crab Trapper geen oplossing is voor de problemen die groene krabben veroorzaken, vinden de medewerkers van Tamworth Distilling het een stap in de goede richting.
"Het is duidelijk dat we het niet gaan deuken met de hoeveelheid die we in onze whisky gebruiken, maar we kunnen het bewustzijn vergroten", zei Robinson.
Reuters