Tientallen mensen raakten gewond en minstens twee werden gedood nadat een aardbeving met een kracht van 7,0 op de schaal van Richter meerdere aardverschuivingen en beschadigde gebouwen veroorzaakte.
Belangrijkste punten:
De aardbeving bereikte 10 kilometer onder de grond
Sommige gebieden meldden aardverschuivingen en de beving werd meer dan 430 kilometer verderop in Manilla gevoeld
De Filippijnen liggen langs de Pacifische Ring van Vuur, waardoor het vatbaar is voor aardbevingen
Ziekenhuizen en huizen werden geëvacueerd tijdens de sterke aardbeving, die zich concentreerde rond een bergachtig gebied in de provincie Abra.
Door vallende betonplaten kwam één man om het leven en raakten minstens 25 anderen gewond, zeiden de autoriteiten.
Een bouwvakker werd ook gedood door puin in het bergachtige stadje La Trinidad, in de nabijgelegen provincie Benguet, waar aardverschuivingen en vallende stenen wegen sloten.
Rovelyn Villamor, burgemeester van Lagangilang in de provincie Abra, zei dat de stad zonder stroom zat omdat de toevoer automatisch "buiten gevaar" werd afgesneden.
"We ervaren nog steeds naschokken", zei Villamor.
"We hebben meldingen ontvangen van schade aan huizen, maar er zijn op dit moment geen slachtoffers."
Het provinciale ziekenhuis van Abra werd ook beschadigd, met een gat in de voordeur bij het dak.
President Ferdinand Marcos Jr gaf opdracht om onmiddellijk reddings- en hulpteams naar het gebied te sturen en kondigde aan dat hij naar het epicentrum van de aardbeving zou vliegen.
Wetenschappers van het Philippine Institute of Volcanology and Seismology zeggen dat er al een aantal naschokken zijn geweest, en er worden er nog meer verwacht.
De sterke beving veroorzaakte scheuren in bedrijven en woningen en was voelbaar in de meer dan 430 kilometer verderop gelegen hoofdstad Manilla.
De aardbeving duurde ongeveer 30 seconden, vertelde congreslid Eric Singson aan DZMM Radio.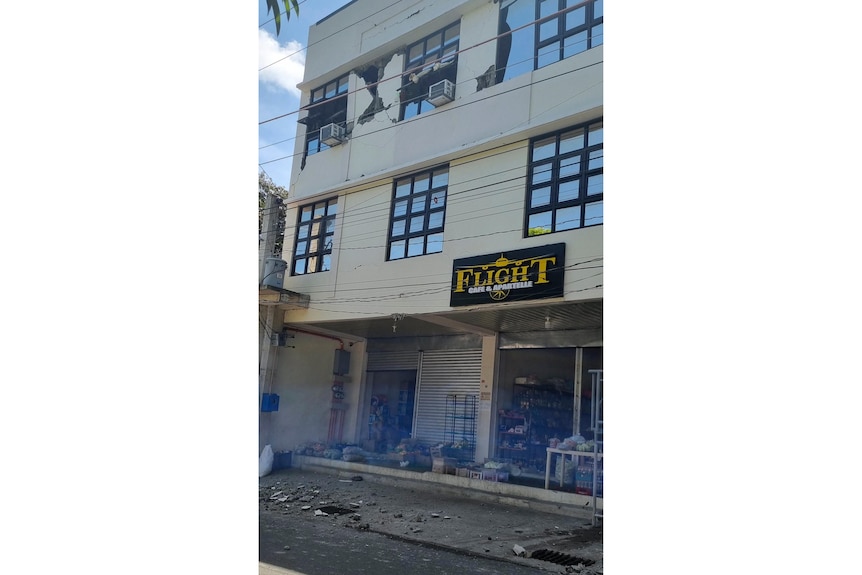 "Ik dacht dat mijn huis zou instorten", zei Singson.
"We proberen nu mensen te bereiken. Op dit moment zijn er naschokken, dus we zijn buiten ons huis."
Sommige steden dichter bij de aardbeving meldden aardverschuivingen. Er is geen tsunamiwaarschuwing afgegeven.
De US Geological Survey heeft de kracht van de aardbeving gemeten met een kracht van 7,0 op een diepte van 10 kilometer.
bezig met laden
De Filippijnen liggen langs de Pacifische Ring van Vuur, een boog van breuken rond de Stille Oceaan waar de meeste aardbevingen in de wereld plaatsvinden.
Het is ook gevoelig voor ongeveer 20 tyfoons en tropische stormen per jaar, waardoor het een van de meest rampgevoelige landen ter wereld is.
Een aardbeving met een kracht van 7,7 op de schaal van Richter kostte in 1990 bijna 2.000 mensen het leven in de noordelijke Filippijnen.
ABC/AP/Reuters