China is een stap dichter bij de voltooiing van zijn ruimtestation in een permanente baan, met de succesvolle lancering van een nieuwe laboratoriummodule.
Belangrijkste punten:
De Wentian-module vloog ongeveer acht minuten voordat hij in een baan om de aarde kwam
De laatste laboratoriummodule voor het Tiangong-ruimtestation wordt in oktober gelanceerd
De VS heeft Chinese astronauten verbannen uit het internationale ruimtestation
De 23-tons module, genaamd Wentian, of "Quest for the Heavens", werd zondag gelanceerd vanaf de Wenchang Space Launch Site op het Zuid-Chinese eiland Hainan.
Amateurfotografen en ruimte-enthousiastelingen keken toe hoe de 3 Long March 5B remote raket opsteeg om zich bij het Tiangong (Heavenly Palace) ruimtestation te voegen.
Volgens het officiële persbureau Xinhua bracht het ongeveer acht minuten door tijdens de vlucht voordat het in een baan om de aarde kwam en met het ruimtestation aanmeerde.
Astronauten gaan wetenschappelijke experimenten uitvoeren in de 17,9 meter lange Wentian-module, die ook zal dienen als tijdelijke verblijfplaats tijdens bemanningswisselingen.
Het heeft een sluiscabine die de belangrijkste uitgang en ingang zal zijn voor extravehicular activiteiten wanneer het station is voltooid.
De nieuwste laboratoriummodule Mengtian, wat 'Dromen van de hemel' betekent, wordt naar verwachting in oktober uitgebracht.
In 2003 werd China het derde land dat zelf een astronaut in een baan om de aarde bracht, na de voormalige Sovjet-Unie en de VS.
China begon in april 2021 met de bouw van het ruimtestation, met de lancering van de hoofdcabines in de eerste van 11 bemande en onbemande missies.
De drie astronauten die in de kernmodule leven, zullen naar verwachting in december terugkeren naar de aarde, waar ze zullen worden vervangen door een andere bemanning.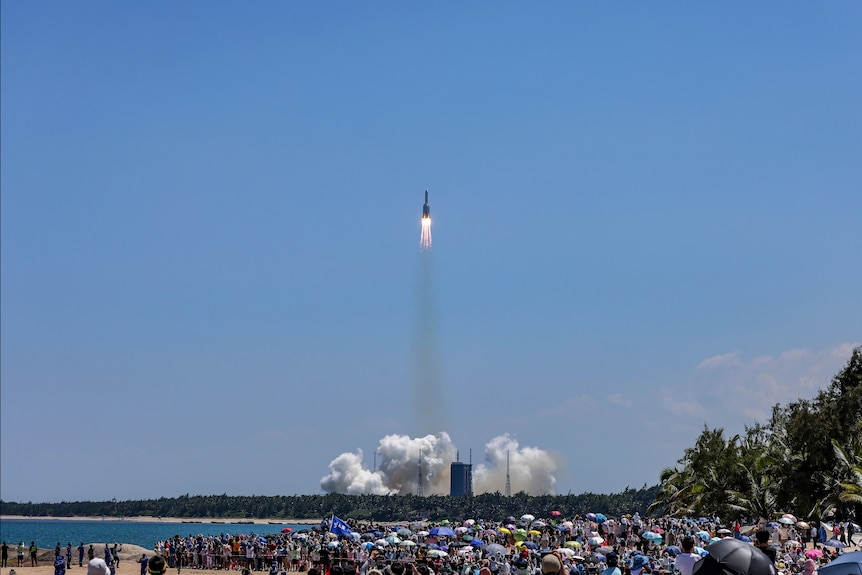 Het ruimteprogramma van China wordt geleid door de heersende militaire vleugel van de Communistische Partij, het Volksbevrijdingsleger, en is door de Verenigde Staten uitgesloten van het internationale ruimtestation.
Als gevolg hiervan moest China alleen werken aan zijn Tiangong-ruimtestationprogramma.
Hij bouwde en verliet vervolgens twee experimentele stations voordat hij aan de laatste iteratie begon.
Volgens het staatsbedrijf Global Times is de laboratoriummodule zwaarder dan enig ander ruimtevaartuig met één module dat momenteel in de ruimte is.
Reuters/AP